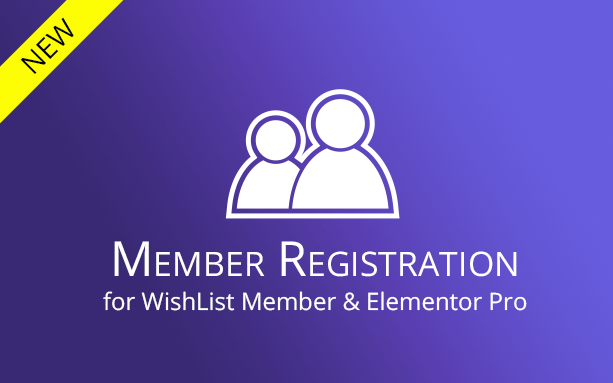 Description
Member Registration for WishList Member & Elementor Pro plugin allows you to create beautiful WishList Member registration forms using Elementor Pro.
The form will register the member according to any free membership level/s you choose.
You can use the power of Elementor Pro forms and register members to your membership site, create stunning and eye-ball catching registration forms and increase your registration and conversion rates.
Exclusive Features:
Supports Multiple Membership Levels Registration – Define in the form's settings all the relevant WishList membership levels and the member will be added to all of them after he completes the form
Automatic Login After Registration – The member will be automatically logged-in to the membership site after he completes the registration form
Supports All Elementor Pro Fields – You can add all types of Elementor Pro fields to the registration form and the data will be transferred
Choose Username Format – Select whether the username will be Email / First name + Last Name / Email Prefix
Supports Pay-per-Post Feature – You have the ability to define the form to register members to specific pay-per-post content (defined inside WishList Member plugin)
Screenshots
Here are the steps to adding the WishList Member settings to the Elementor form:
Step #1 – Add a new post / page or click the Edit with Elementor on an existing page
Step #2 – Search for the Form element in the Search Widget field and drag the element to the relevant section and block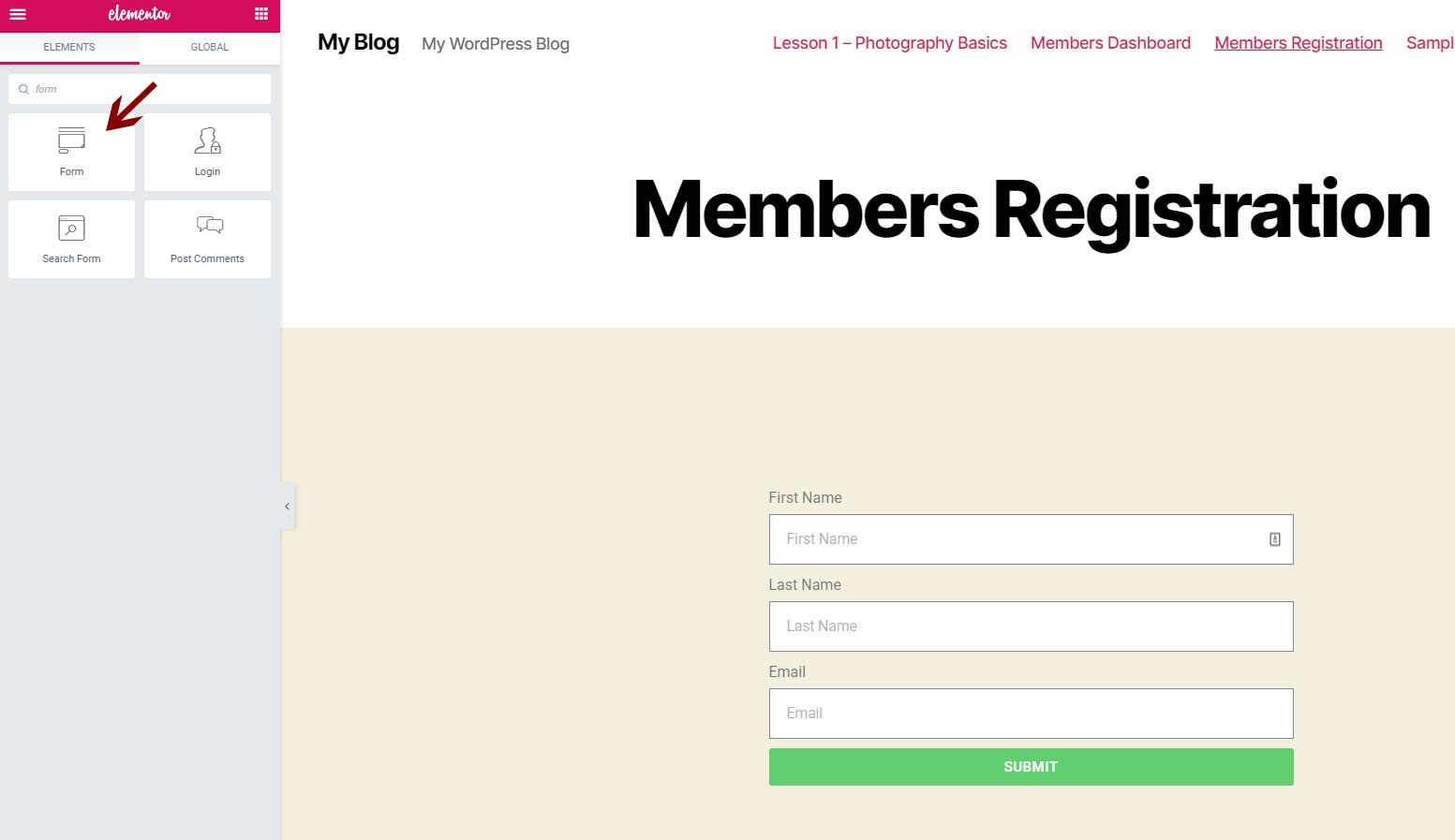 Step #3 – Define the content according to your needs, including: Form Fields, Buttons, Actions After Submit etc.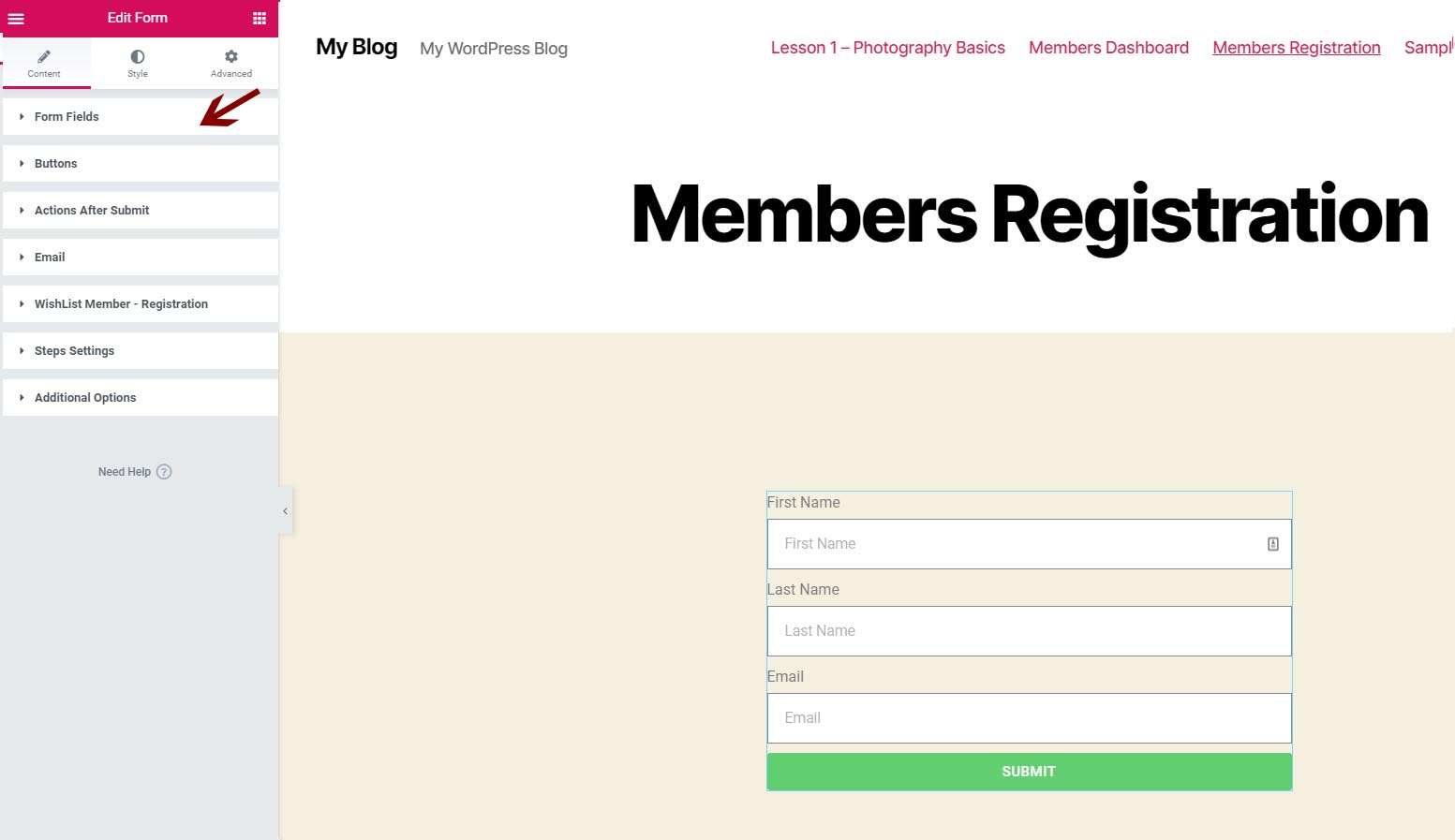 Step #4 – Define the WishList Member registration form, including: Choosing the relevant membership level/s and/ or pay-per-post content, username format and map the form fields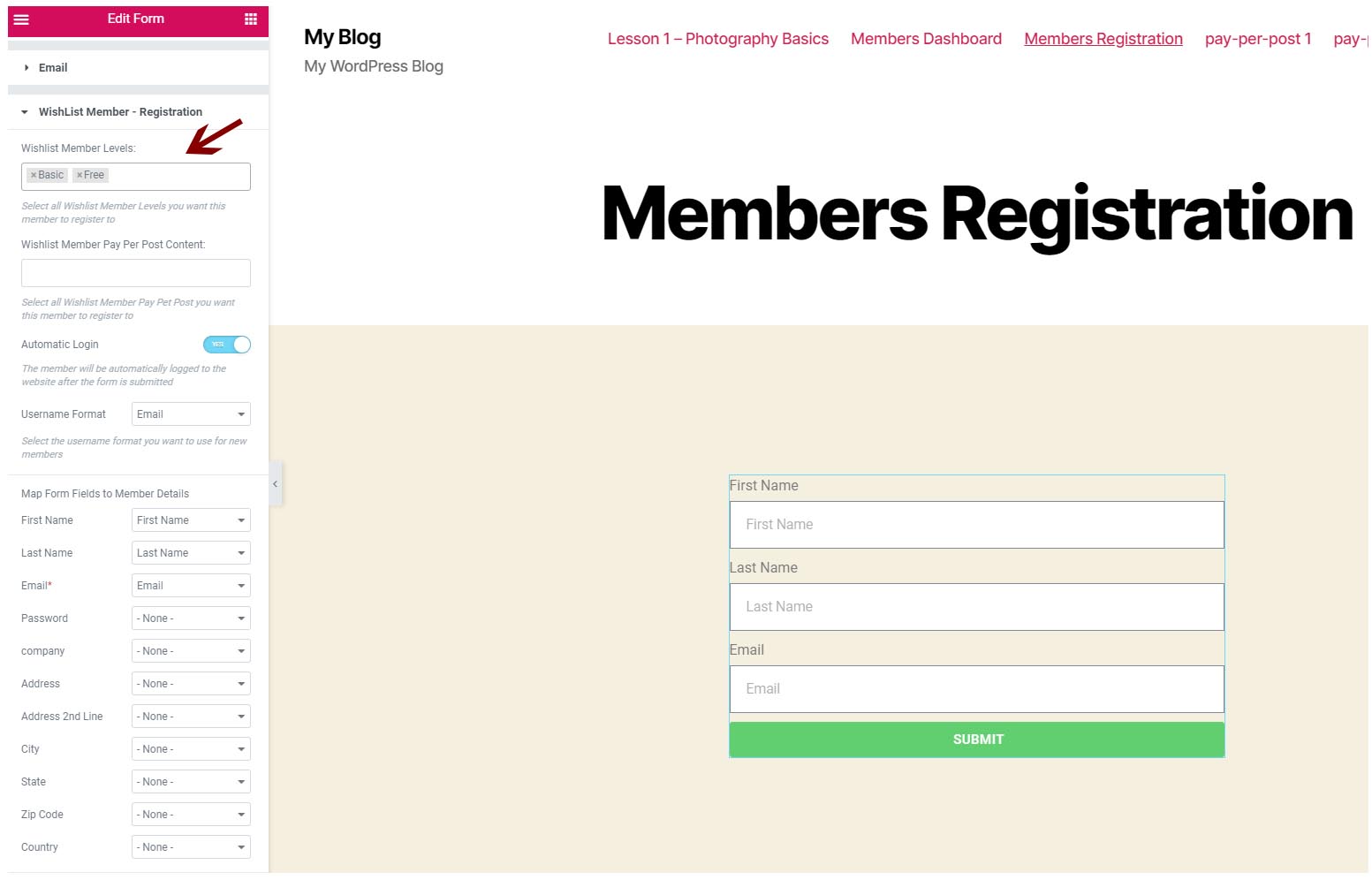 or pay-per-post content: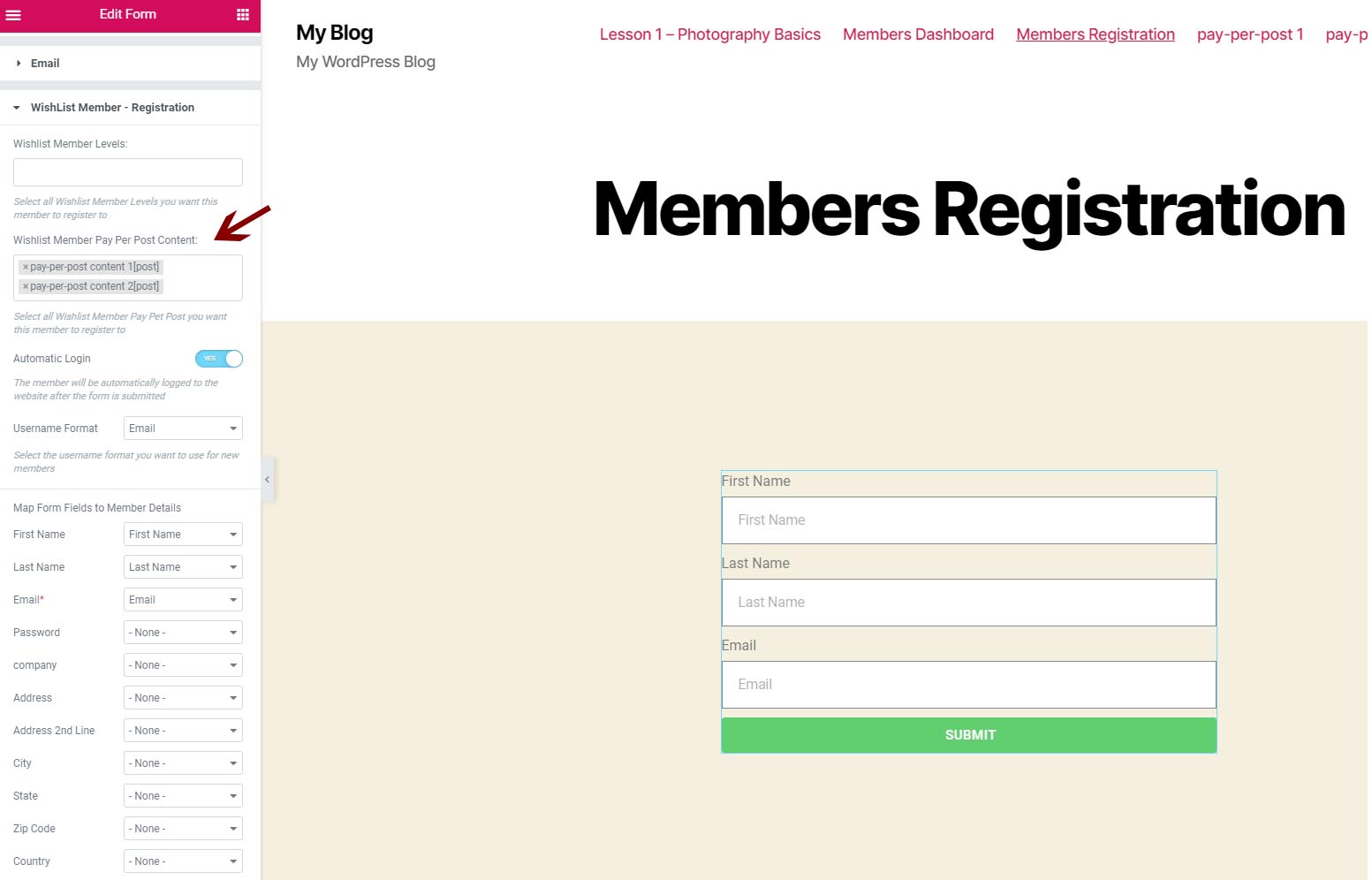 Or membership levels and pay-per-post content: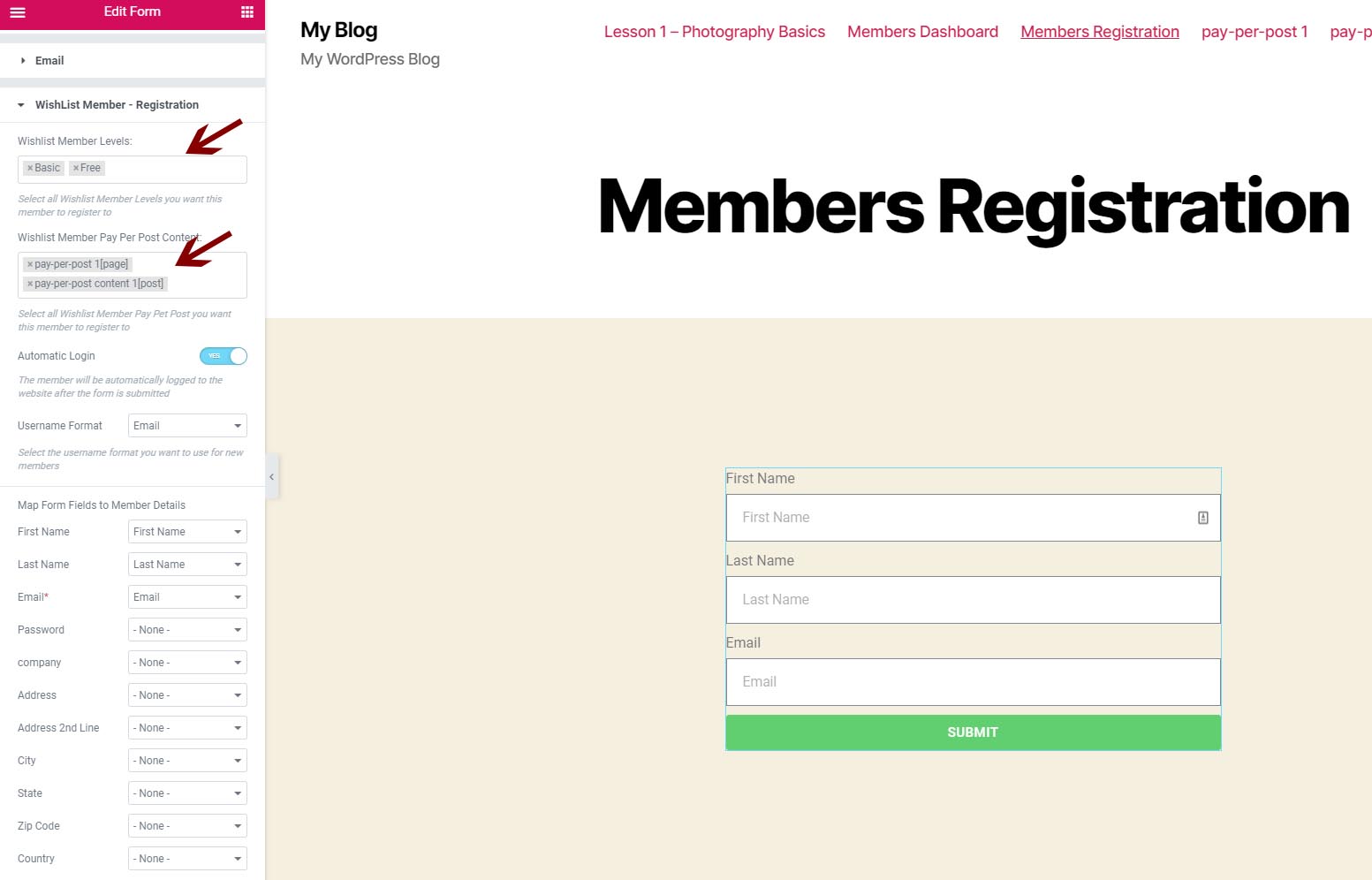 That's it! Now every time a user will register via the form he will be added to the relevant membership level/s.
Videos
Video #1 – Creating Eyeball Catching Registration Forms
In this video we go over the plugin's settings and create a registration form to a free WishList membership level inside Elementor Pro.
We also demonstrate how you can increase your registration rates by building a more converting landing page with teaser content from your free membership.
This landing page design and structure is highly converting!
Video #2 – Pay Per Posts Registration Form
In this video we demonstrate how the pay-per-post registration works.
We demonstrate how you can attract new members to register and get a sneak-peek to the full online course we offer.
The sneak-peek content is a pay-per-post page that contains one lesson from the full podcasting course we are selling.
After the registration members get immediate access to the teaser content (which can be pay-per-post)
And inside the post you can show them an upgrade link to the full course.
Creating sneak peeks to your digital courses for free will help you convert more free members into paying customers and increase your overall sales and revenues.
Video #3 – Registration according to Members Interests
In this video we show you one example of you to use the plugin to increase your CTR:
We created 2 registration forms that register members according to their interests, so we will be able to offer each member the right offers and upsells relevant to him:
New Podcasters Membership – Who are only making their first steps in the podcasting world
Veteran Podcasters Membership – Who already have a podcast and are interested in more advanced content
In the video we show you the complete setup and design of the Elementor landing page, and the Member Registration plugin's setup and flow.
Creating different registration forms that will allow you to map your members' according to their interests will help you offer more targeted products to each of them.
Requirements
Latest Version – 1.0.1
Product Type – WordPress Plugin
Requirements – WordPress 5.3.2 and above, WishList Member 2.8 / 2.9 / 3.0 and above, Elementor Pro 2.10.3 and above
Choose Your Licence: