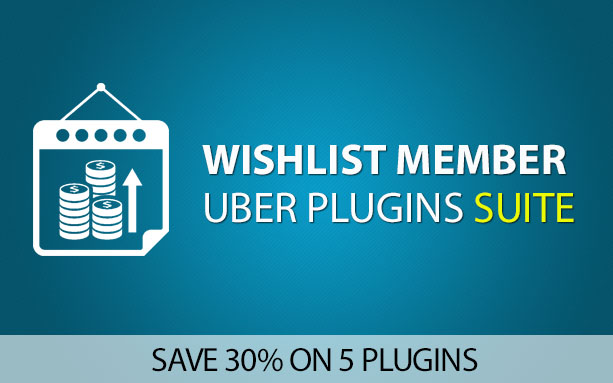 The plugins suite contains our top plugins that will enhance your Wishlist Member membership site with powerful features and increase your overall sales and revenues significantly.
The plugins we have chosen for the Plugins Suit are veteran plugins that are currently installed and working on hundreds of membership sites and we have received great feedbacks about them.
The plugins have exclusive features that will help you enhance your membership site and will have a direct and immediate impact over your total sales and revenues.
Read how you can benefit from the plugins
What Plugins are Included in the Plugins Suit?
You get all these powerful plugins at a 30% discount!!!
Just $199 instead of $295 for the Single Site license (Save $96)
Just $269 instead of $395 for the 3 Sites license (Save $126) 
Just $399 instead of $581 for the 5 Sites license (Save $182)
How Will I Benefit from the Plugins?
Here are the main features of each plugin and how they will generate you a lot more money:
Drip (display) content based on registration date and level – Create anticipation and continuity for your members and increase retention rates
Archive (hide) content based on registration date and level – Create urgency to consume your content and increase engagement rates
Display members the exact date and time the content will be dripped / archived – Reduce members uncertainty and overwhelm
Change your protection settings automatically in any time or date you want:
From Protected to Unprotected – Give members the privilege to enjoy your content before anyone else
From Unprotected to Protected – Drive more visitors to your site by giving them a sneak peak to your content for free for a limited time and increase their satisfaction
Changing Protection Settings (protected to protected – levels & pay-per-posts) – Encourage members of lower levels to upgrade by giving them a sneak peek to higher levels' content for a limited time and increase your revenues
Register members to any free level in 1-click and increase your registration rates and engagement:
Autoresponder registration –  Unique registration link you copy-paste to emails you send to your mailing list and register them automatically to your membership site
Other membership sites registration – Register your members to any other membership site automatically in 1-click
Signup form registration – Add a 3-field registration form to any post / page
Add an eye-ball catching registration form to your membership site's sidebar to increase  registration rates to your free membership.
Engage free members with your content and make them part of your community, and increase conversion rates to your paid membership significantly.
The registration form has exclusive features to help you register more members:
Visible location – Any sidebar widget according to your theme's widgets
Real-time typing validation notifications – Any errors during when filling-in the form is displayed in real-time to increase registration rates
Ability to tweak the CSS – Make your registration form stand out with simple CSS coding (requires basic CSS knowledge)
Experiment with the fields that work for your audience – The registration form can include as many field options as you want from these options: Email, Username, First Name, Last Name, Password, Math Captcha)
Automatic login after the registration – So members can start interacting with your content as soon as they register
Ability to add the registration form inside posts and pages – To maximize your registration rates
Redirect members to a unique page on their first login to the members' area to increase their engagement and interaction with your content, increase retention rates and reduce overwhelm and cancellations.
The first login redirection can be set in these scenarios:
First time ever login – Members who are completely new to the membership site and are logging-in for the very first time to the members' area
First login after membership level is added – Members who have upgraded their membership and are now logging-in for the first time after the upgrade
First login after long absence – Members who were away for a long time and are now logging-in to the site, in other words: members who haven't logged-in to the site in x number of days
Choose Your License: