[leadplayer_vid id="55BA016DD77CD"]

Description
Wishlist Auto Protect Pro allows you to automatically change your content's protection settings at any time or date you want.
You can move your content's protection from one membership level to another, change the protection settings after a period of time to protected or unprotected.
And the best thing is… You can change each post's protection settings up to 10 times… And and all the changes will occur automatically!
For example:
Post #1 Current Protection Setting – Not Protected
You can set the post to change its protection settings automatically so that it will be changed from:
From Non Protected to Protected by Level 1 after 7 days
From Level 1 to Level 2 after 14 days
From level 2 to level 3 after 21 days
And so on… (Up to 10 automatic changes!)
You can see all the protection variations right below:
Protection Variations
Using Wishlist Auto Protect Pro you can automatically change your content's protection settings however you want to.
In the table below you will find all the available protection variations:
"From" – The current protection settings of the content
"To" – The future protection settings as defined inside Wishlist Auto Protect Meta box. The change will occur at the time you specify
Exclusive Features
Automatically protect / unprotect content automatically after specific number of days / on a specific date
Automatically change the content's membership level/s after specific number of days / on a specific date (supports multiple membership level selections)
Fully supports both free and paid pay-per-post
A complete summary table of when the automatic protection / unprotection takes place
A shortcode that displays the time and date until the automatic change occurs (you can insert it in any post or page)
Define up to 10 protection changes per post / page – NEW!!!
Your Benefits of Using the Plugin
From Protected to Unprotected:
To give members the privilege to enjoy your content before anyone else.
From Unprotected to Protected:
Giving content for free for a limited amount of time will drive more visitors to your site and will leave them eagerly waiting for more of your content.
This will also give your members the relief that they were able to land on your site at the right time if they're able to get something worthwhile from their visit for free and increase their satisfaction.
Changing Protection Settings (levels / pay-per-posts):
From Free to Paid – By giving your free members specific content that is available for paid members only for X number of days will: increase their engagement, attract more free members to register and eventually increase your revenues by converting more free to paying members.
From Paid to Free – Giving your paying members the privilege to enjoy new content first, or even release updates / contests etc. to paying members first so they would have an advantage over free members.
Go to the Screenshots tab to see how Wishlist Auto Protect Pro works
Screenshots
In this tab we show you how Wishlist Auto Protect Pro works, how to activate and use it:
Changing the Protection Settings
All the Wishlist Auto Protect Pro settings can be found inside the post or page you want to automatically protect / un-protect >> under the Wishlist Auto Protect Pro Meta box.
The first thing you need to do is choose how many changes per post you want to make (up to 10 changes):

Then, when you click on the "Show" link, in the settings screen you can:
Enable the automatic protection
Choose when you want the change to automatically occur (in days / specific date and time)
Choose the type of protection setting (Protect / un-protect the content)
Choose the relevant membership levels if any
Choose free / paid pay-per-post if relevant
All the settings you define will occur at the time you specify under the "Time Settings", here is an example: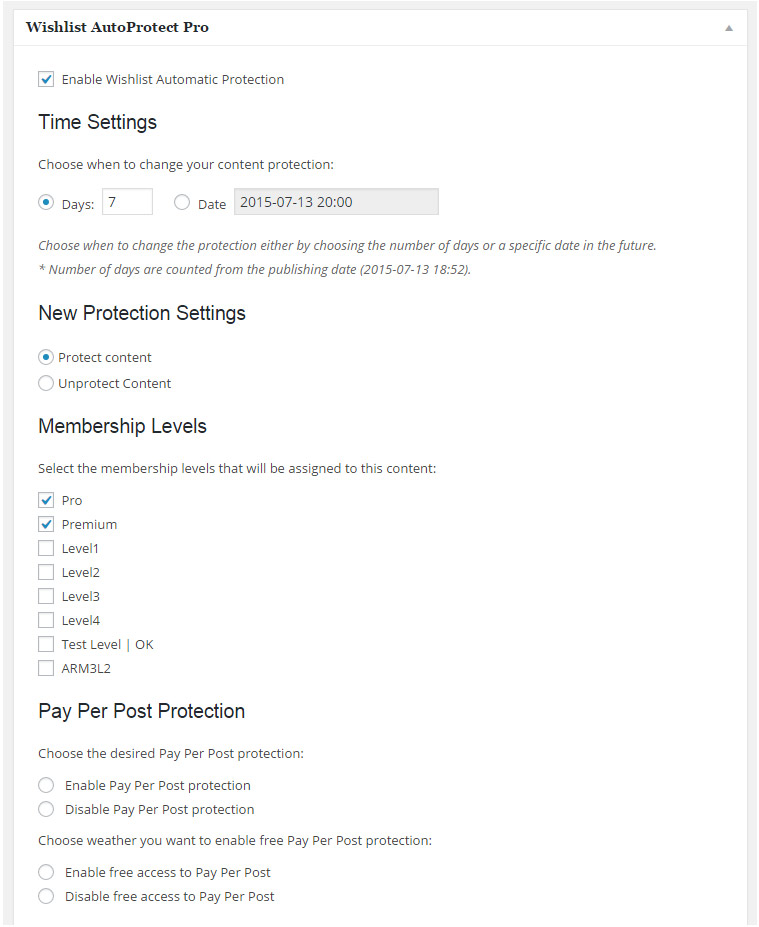 The Auto Protection Queue Tab
The Auto Protection Queue tab gives you a complete overview of all the upcoming protection changes that are set to occur, including:
The Post / page name
Current Wishlist Member protection settings
Upcoming protection changes as defined in the Wishlist Auto Protect Meta box
In the following screenshot you can see the complete queue table (Click on the image to enlarge it):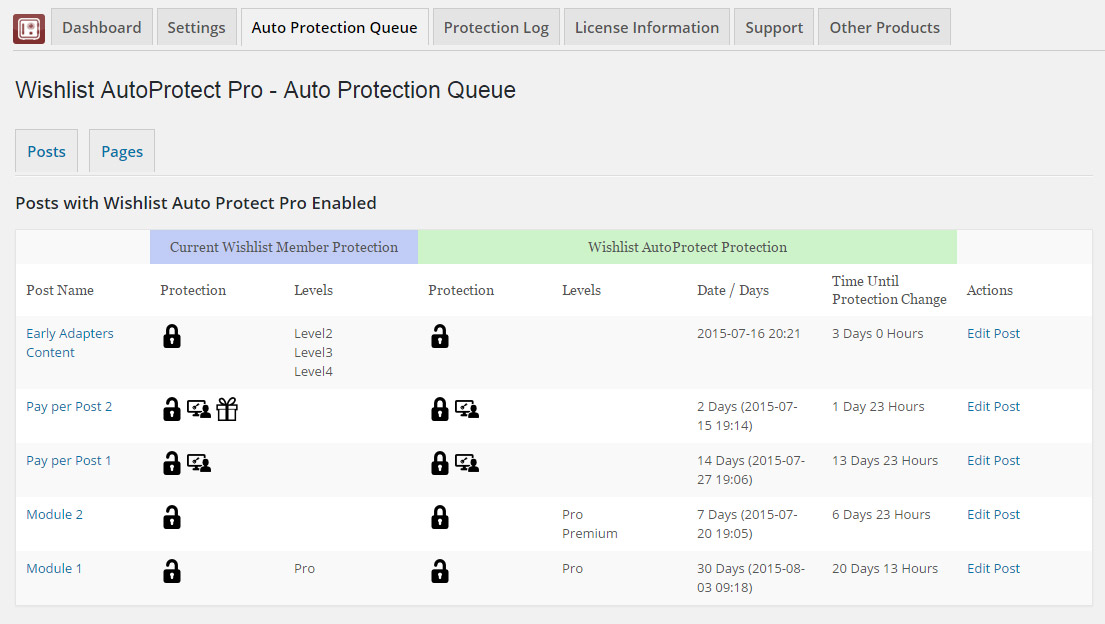 The Icons
The icons in the queue table help you understand the protection settings quickly and easily.
You can also hover with the mouse on each icon and the icon's meaning will be displayed.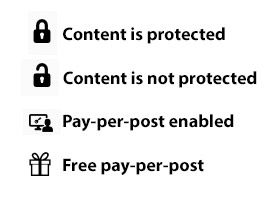 The Protection Log Tab
The Protection Log tab shows you all the changes that had already occurred, so you can keep track of your content's protection settings simply and easily.
The Protection Log table looks a lot like the Auto Protection Queue table, but it only displays the content who's protection protection changes were made.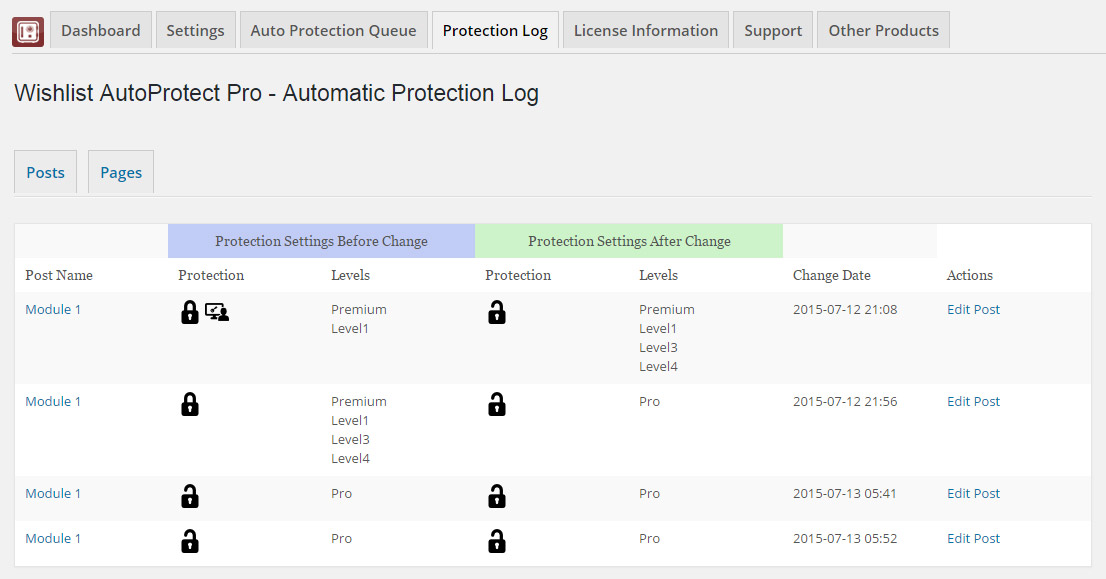 The Shortcode
We have created a unique shortcode you can add to the relevant posts and pages to display users when the content's protection change will occur.
The shortcode is: [ wlapp_time_until_change ]
For example:
Your current protection settings – Your post is currently not protected
You have enabled the Wishlist Auto Protect Pro to – Protect the content under the Pro membership level in exactly 2 days
The shortcode will display the time left this the content will become protected – In this case: "1 day 23 hours"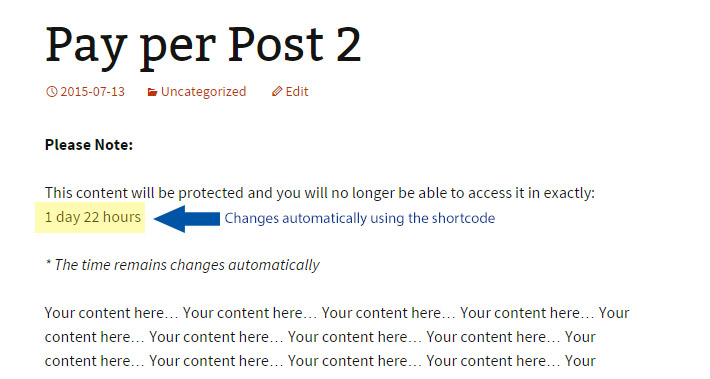 FAQs
Does the plugin support custom post type?
As for now it does not support custom post types, but we might add this feature in the future.
Does the plugin have any conflicts with other plugins?
As far as we know, the plugin does not conflict with any other plugin. Wishlist Auto Protect Pro keeps a very strict code method so the chances that it's causing any problem are very low. If you have any problems or conflicts, please contact the support department.
Does the plugin integrate with every membership site platform?
No, Wishlist Auto Protect Pro is a Wishlist Member dedicated plugin
I have more questions and I haven't found my answers, how can I contact you?
If you haven't found your answers in the product's page or manual, please contact our support team and we will get back to you shortly.
1-Minute How to Videos
How to Change the Protection Settings of Specific Pages Automatically on a Wishlist Membership Site?
[leadplayer_vid id="5A323985B8E90″]
How to Automatically Protect Posts after X Period of Time?
[leadplayer_vid id="5A365F4998599″]
Plugins Suite (30% off)
Get the Wishlist Member Uber Plugins Suit at 30% Discount!
Interested in Wishlist Auto Protect Pro?
Save up to $182 by purchasing the Uber Plugins Suite!
The UBER Plugins Suit includes our top 5 Wishlist Member dedicated plugins that will boost your membership site with powerful features and boost your revenues, including:
Wishlist Auto Protect Pro
Wishlist Drip Dynamic Shortcodes
Wishlist 1-Click Registration
Wishlist Registration Widget (Premium Version)
Wishlist First Login Redirection
Choose Your License: