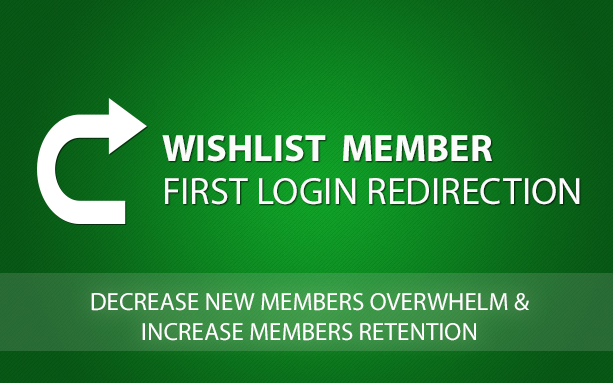 Description
Wishlist First Login Redirection plugin allows you to redirect members to a different page on their first login to the membership area / when they are added to a new membership level.
Redirecting your members to a different login page can help you control exactly what your members will see when they first enter the members' area and prevent overwhelm in consuming too much content for the first time.
It has already been proven that many people who purchase memberships never bother to actually consume the content they purchase and engage with the community, which ultimately results in membership cancellation and decrease in retention rates, the number one reason for that is content overflow that creates overwhelm.
Help your new members to engage with your content & community and prevent this overwhelm using Wishlist First Login Redirection plugin.
Main Features:
Per membership level redirection – Choose a first login redirection page for each membership level separately
New level redirection – Allows you to redirect the member to the first login page again when he is added to a new membership level
Long absence redirection – Redirect to a unique login page if the member has not logged-in to the members' area for any number of days you define in the settings
Screenshots
Choosing the Redirection Pages per Membership Level: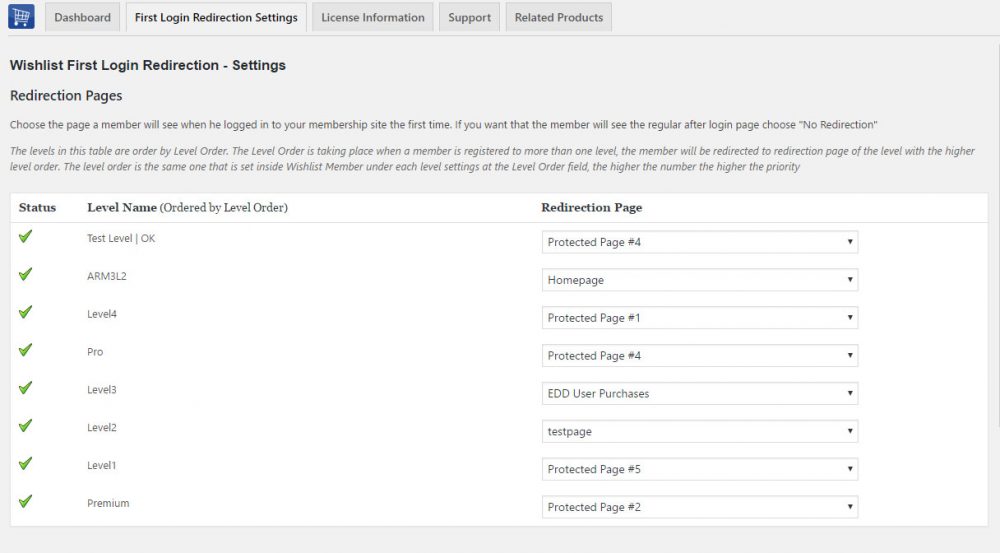 Redirection for Upgrading Member & After a Long Absence

How To Videos
How to Redirect New Wishlist Member Members to a Unique Welcome Page?
[leadplayer_vid id="5A28F72BEECBC"]
How to Redirect Upgrading Member to a Unique Page on their First Login after the Upgrade?
[leadplayer_vid id="5A28F796CC502″]
How to Display a Unique Page to Wishlist Members Who First Login after Long Absence?
[leadplayer_vid id="5A28F86E84D11″]
How to Reduce the Abandonment Rates by Engaging New Members?
[leadplayer_vid id="5AD316787A7E8″]
Preventing Members Who Were Absent for a Long Time from Canceling Their WishList Member Membership
[leadplayer_vid id="5AD316E100E6B"]
Plugins Suite (30% off)
Get the Wishlist Member Uber Plugins Suit at 30% Discount!
Interested in Wishlist First Login Redirection?
Save up to $182 by purchasing the Uber Plugins Suite!
The UBER Plugins Suit includes our top 5 Wishlist Member dedicated plugins that will boost your membership site with powerful features and boost your revenues, including:
Wishlist First Login Redirection
Wishlist Auto Protect Pro
Wishlist 1-Click Registration
Wishlist Registration Widget (Premium Version)
Wishlist Drip Dynamic Shortcodes
Choose Your License: