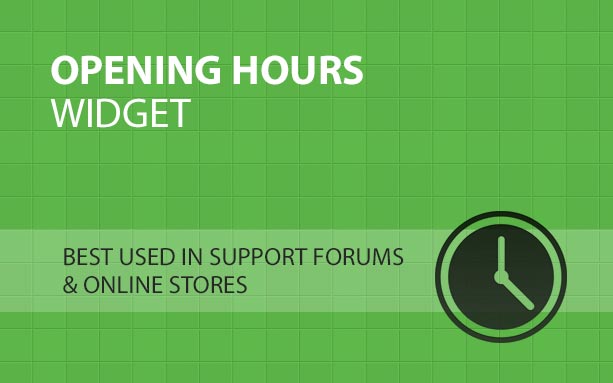 Description
The Opening Hours Widget allows you to display your customers a message saying whether or not your support is currently open or closed based on your time zone.
All you need to do is fill in the opening ours inside the widget and the widget will know whether your support is open or closed automatically according to the time zone you define inside your WordPress website (Settings >> General).
How Can the Plugin Be Useful to You?
The Opening Hours Widget is extremely helpful and powerful, especially if your website is intentional and you have customers from all over the world in different time zones.
By displaying your customers a message indicating whether or not your support is currently open, you will avoid any confusions and unhappy customers who have contacted the support and are waiting for a replay.
Files
When finishing the purchasing process you get:
The Opening Hours Widget files according to the license you purchase.
FAQs
How do I use the plugin?
After installing and activate the plugin, go to the WordPress menu >> Appearance >> Widgets, drag the Opening Hours widget to your desired sidebar and fill in your opening hours.
How the plugin knows to present the right opening hours to my customers?
The plugin calculates the opening hours by using the time zone you specified inside the WordPress general settings.
What values the plugin has for me?
The Opening Hours Widget is valuable to both you and your customers, especially is you have customers worldwide.
Keep your customers happy and you business alive!
Avoid any confusions whether or not your support is currently open.  Just think of a customer waiting for the support team's answer on a very urgent issue and not getting it quickly.
Slow response time can cause your customers to walk away and even stay away from your services.
It doesn't matter if you know your support's response time is fast… If your customers have a different experience due to different time zones, than you can create a bad reputation for yourself.
In what types of websites can I use the plugin?
The plugin works perfectly in any type of website you like!
The plugin also works seamlessly with platforms such as Wishlist Member, WOO Commerce, Easy Digital Downloads, BBPress etc.
Can I customize the look and feel of the widget?
Yes. The widget is presented according to your theme's CSS, but you can fully customize it to your needs.
Does the plugin have any conflicts with other plugins?
As far as we know, the plugin does not conflict with any other plugin. The Opening Hours Widget keeps a very strict code method so the chances that it's causing any problem are very low.
If you have any problems or conflicts, please try to disable the plugin and see if the problem still exists. If it does, please contact our support helpdesk.
Requirements
Screenshots