Description
MemberPress WooCommerce Plus integrates MemberPress and WooCommerce and allows you to sell MemberPress memberships through your WooCommerce shop.
The membership product creation is done in 1 simple click.
Maximize your sales and revenues significantly using MemberPress WooCommerce Plus!
MemberPress WooCommerce Plus can be used for 2 scenarios:
1 – For Selling Local Memberships – When WooCommerce & MemberPress are installed on the EXACT same domain and WordPress installation. You will need MemberPress WooCommerce Plus plugin only
2 – For Selling External Memberships (COMING SOON) – When WooCommerce & MemberPress are installed on SEPARATE domains and different WordPress installations. You will need to also purchase the External Membership Sites Add-Ons Bundle
Please note: The purpose of MemberPress WooCommerce Plus plugin is NOT to protect WooCommerce products to be visible by members only, but to sell access to MemberPress memberships while enjoying the advantages of the WooCommerce Platform, as you can read right below.
The Benefits of Integrating MemberPress & WooCommerce
The integration of MemberPress and WooCommerce gives you the option to assign MemberPress levels, pay-per-post and pay-per-view content to members after they complete the purchase / order through WooCommerce.
By integrating MemberPress & WooCommerce you will be able to:
Allow customers to buy more than one MemberPress membership product at a time and create their own combination of memberships (decide which memberships to add to the cart and buy)
Grand unique members' only discounts – You will be able to create unique members-only discounts that will reflect in the Woo product page when the member is logged-in to the membership site. It will also support complex memberships' scenarios and combinations. The Members Discount Add-On will be sold separately.
Enjoy all the benefits of an eCommerce shop – Your MemberPress memberships will be sold just like any WooCommerce product and you can enjoy all the benefits of selling through an online shop, including using all of WooCommerce add-ons that will help you maximize your sales and revenues
Screenshots
The Settings Tab
In the Settings tab you can define the following settings:
The Username Format – The username that will be created by the plugin can be the member's email / first name + last name / email prefix
Important Email Settings – The look of the email that will be sent to the member, including the ability to customize it to your needs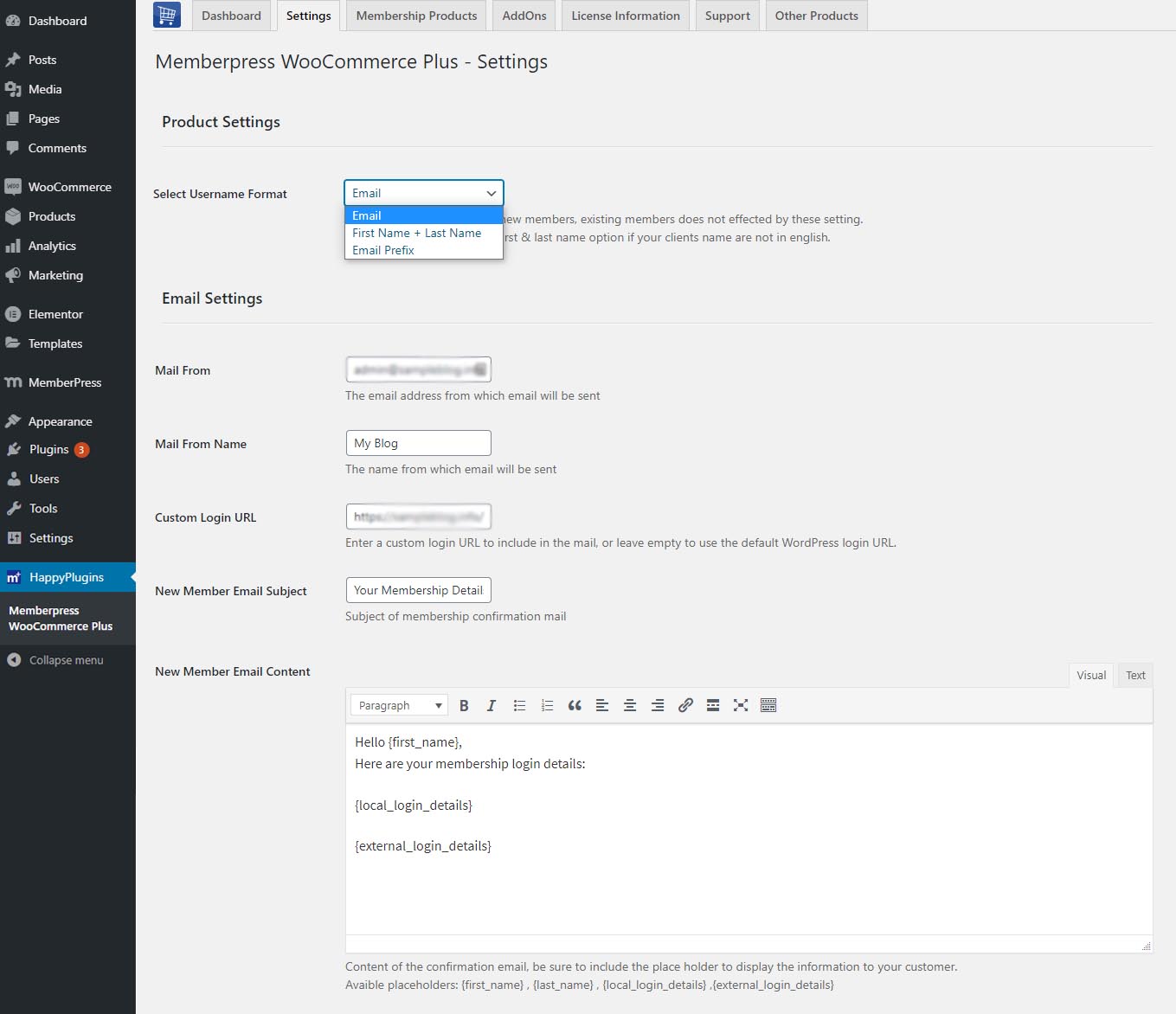 The Membership Products Tab
In the Membership Products tab you can view all the MemberPress membership products you have created, including the product name in WooCommerc, MemberPress membership and the membership product status (Publish, draft etc.), and you can also view or edit the product straight from the membership products table.
In the screenshot below you can see 2 tables: One for local membership products and one for external membership products.
The external membership products feature is coming soon…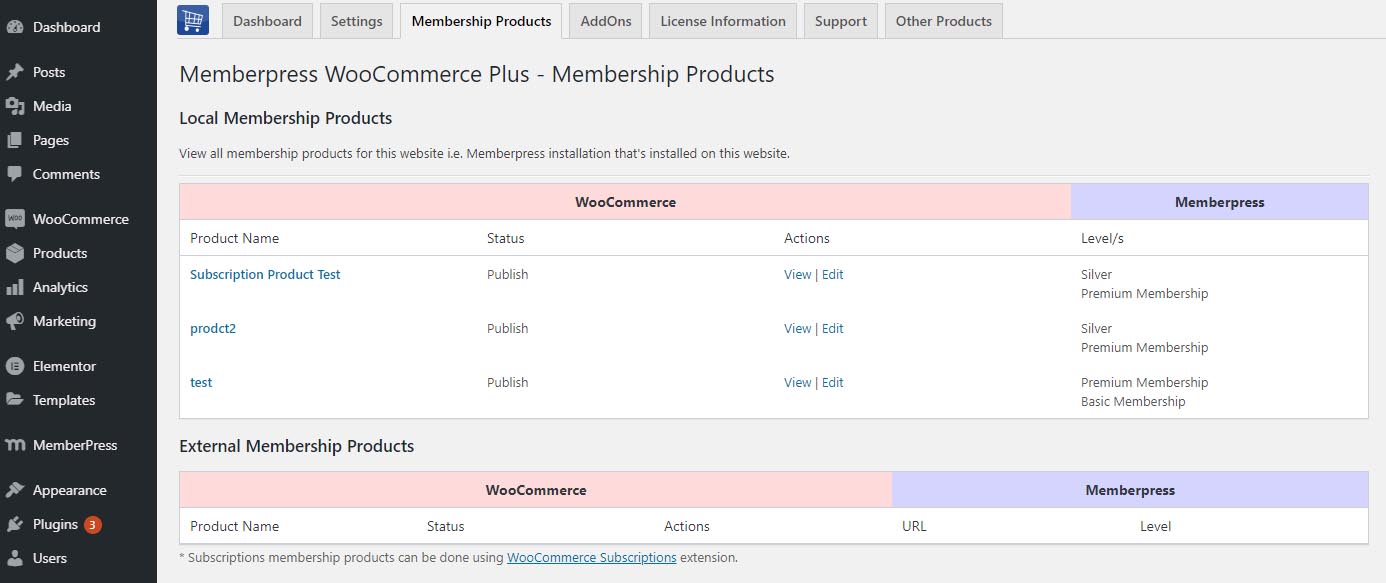 MemberPress Membership Products Creation
You can easily create a new membership product by going to the WooCommerce Products menu » Add New and then scroll down to the Product Data Meta Box » MemberPress tab.
All you need to do is choose the relevant memberships, set the value and expiration (if relevant) and click Update.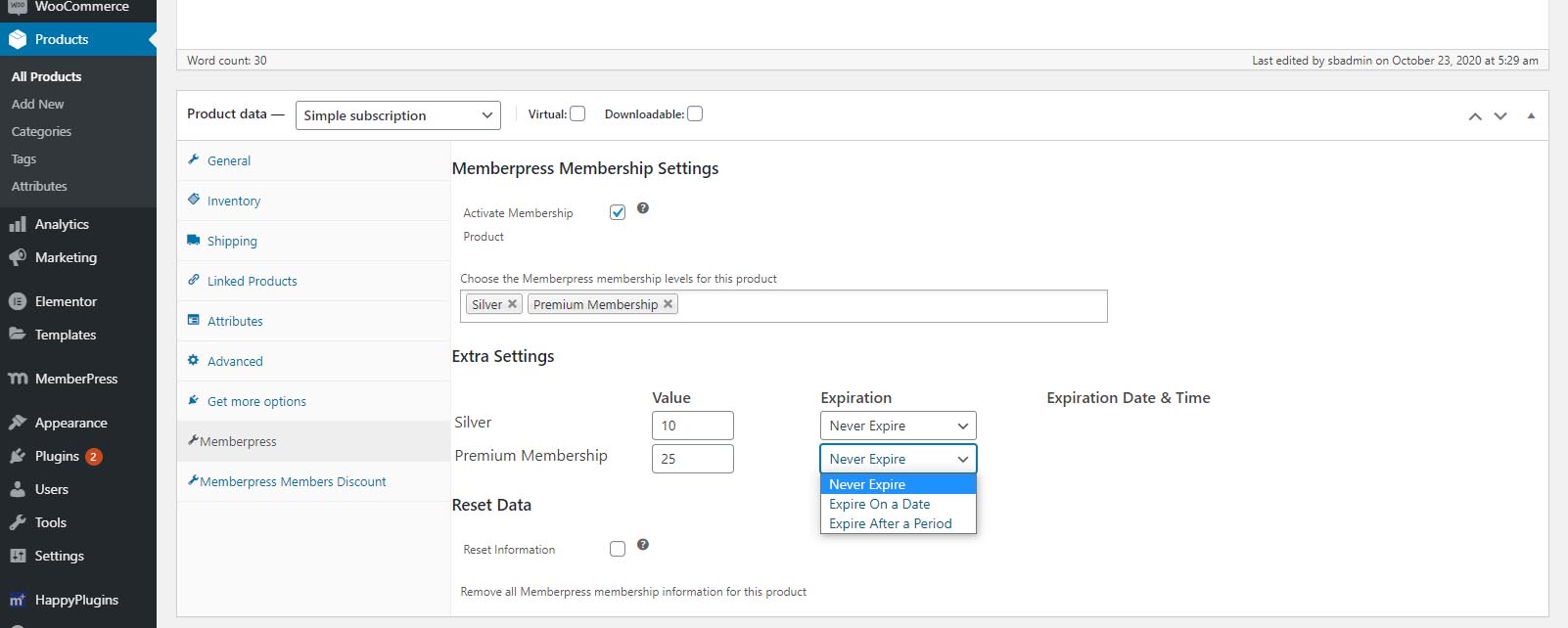 Custom Thank You Page Redirection After Purchase
When purchasing via the WooCommerce platform, WooCommerce redirects customers to the "Order Receipt" page.
Using the plugin you will be able to redirect MemberPress members to a any thank you page you like, so the flow will make more sense to them.
You can choose the redirection page in the plugins Settings tab: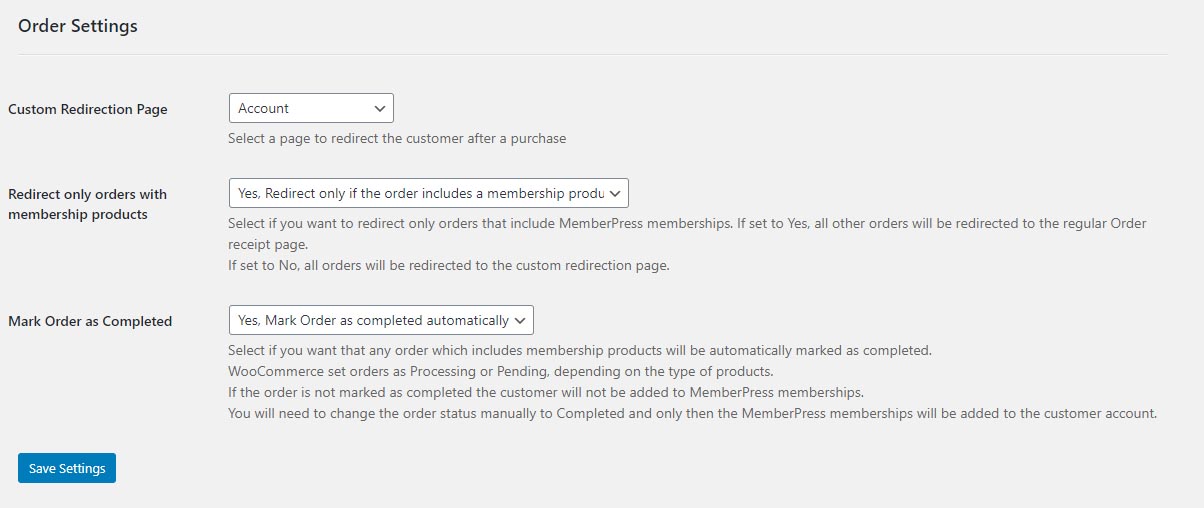 FAQs
Here are some of the most common questions about MemberPress WooCommerce Plus we received:
Can I use MemberPress WooCommerce Plus on Existing Woo Products?
Yes, you can easily connect a WooCommerce product to a MemberPress membership. You will find the exact instructions on how to do it in our documentation when the plugin is released.
Does MemberPress WooCommerce Plus support Subscriptions?
Yes, MemberPress WooCommerce Plus will assign the members to the relevant membership/s when purchasing subscription product/s, but in addition to our plugin you will also need to get the WooCommerce Subscription add-on.
Does MemberPress WooCommerce Plus support Cancellations?
Yes, it does. Again, for managing subscriptions and cancellations you need to use the WooCommerce Subscription add-on.
When a member cancels his subscription he will also be removed from the relevant membership/s according to the membership/s  expiration date.
What version of WooCommerce plugin I need in order the plugin?
You will need to use WooCommerce version 4.1.1 and up
If my WooCommerce shop and MemberPress membership site are installed on the exact same domain, will I need to purchase the "External Membership Sites Add-Ons Bundle"?
If both WooCommerce and MemberPress are installed on the exact WordPress installation, you will NOT need the "External Membership Sites Add-Ons Bundle", only the main plugin – MemberPress WooCommerce Plus plugin
If my WooCommerce shop and MemberPress membership site are located on different domains / sub-domains or files, will I still need to purchase the "External Membership Sites Add-Ons Bundle"?
Yes, because you have 2 different WordPress installations you will need to use the add-on.
Here are examples of different domains / WorePress Installations:
1. http://domain1.com & http://domain2.com (different domains)
2. http://domain1.com/woo & http://domain2.com/wlm (different directories)
3. http://woo.domain1.com & http://wlm.domain2.com (different sub-domains)
The External Membership Sites Add-On will be available soon…
Add-Ons
Membership Discounts Add-On:
The Membership Discounts Add-On allows you to grant your MemberPress members with unique discounts on WooCommerce Products based on the membership level/s they are registered to.
This means that only customers who are also registered to your membership site will benefit from the discount, while regular customer will pay the regular price.
That way you members will feel special and you will be able to attract more customers to become members.
Per Product Discount: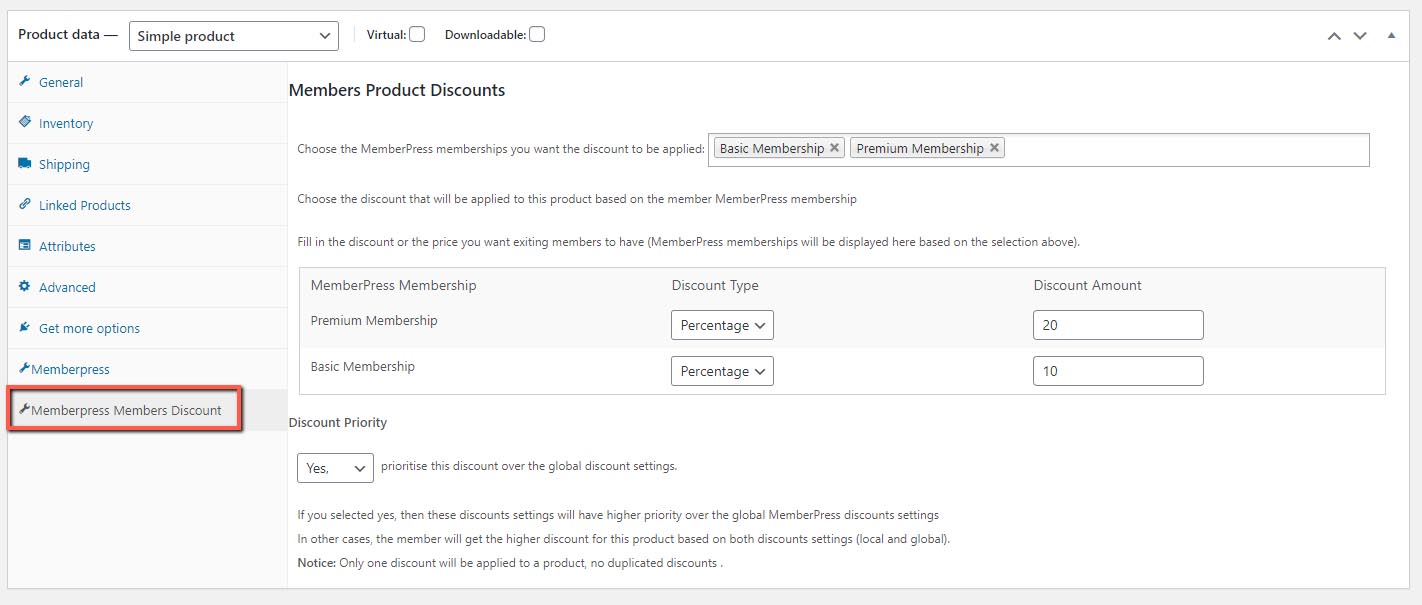 Global Discounts: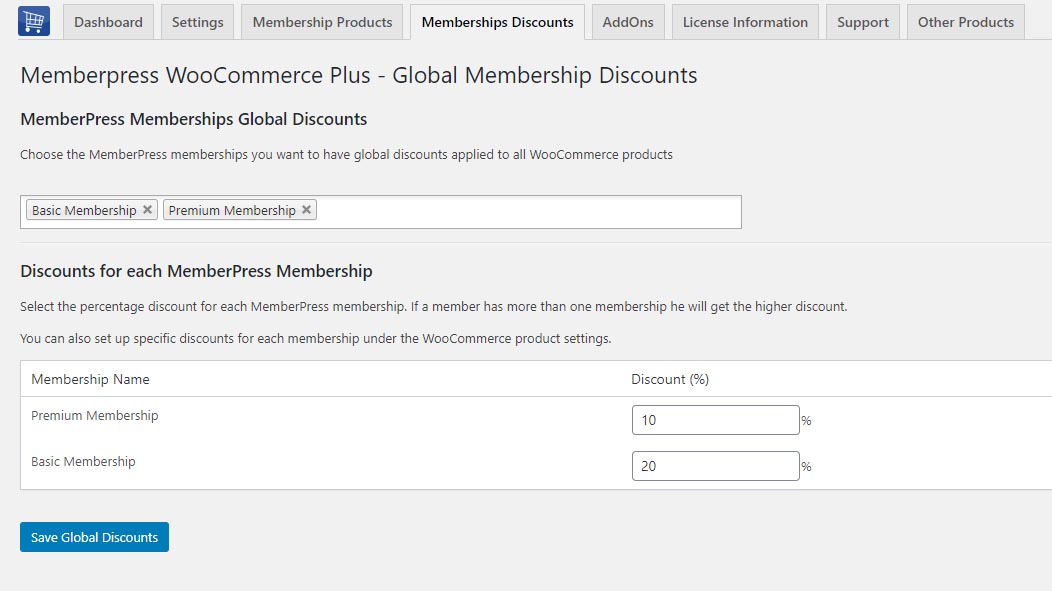 Requirements
These are the requirements for the MemberPress WooCommerce Plus:
Latest Version: 1.0.4
Product Type: WordPress Plugin
Requirements: WordPress 5.5.1 and higher, MemberPress 1.9.3 and higher, WooCommerce 4.5.2 and higher
Choose Your License: