[leadplayer_vid id="537052E2C0D52″]

"Whether painting on an iPad or a canvas, our Art Study Online students stay focused thanks to Wishlist Pay Per Post Shortcodes. It delivers key functionality and keeps our site interface tidy. We couldn't teach without it!"
Peter Spence, Founder & Tutor of ArtStudyOnline.com
Description
Wishlist Pay Per Post Shortcodes plugin works seamlessly with Wishlist Member and allows you to create the perfect flow for your pay-per-post membership site.
You can easily manage your paid posts using shortcodes and a sidebar widget, and even display different messages according to each user's status.
All you need to do is add the plugin's shortcodes inside posts and pages and you'll have a pay-per-post membership site up and ready to go.
The Shortcodes
These shortcodes allows you to display certain content to specific users only, including:
Making specific content inside the post visible only to visitors who hadn't bought the post
Making specific content inside the post visible only to members who has bought the post
Displaying a list of all the posts a certain member has bought
Displaying the member his last purchased post
These are the available shortcodes:
The Sidebar Widget
The sidebar widget allows you to display a list of the user's most recent purchased posts in the sidebar.
This powerful widget will help increase the engagement to your site and generate you more sales.
The sidebar widget includes the following options:
Title – The title of the widget
Purchases to Display – You can choose to display between 1 to 10 posts that will be organized according to purchase date
Display only to logged-in users – Check the box to display the widget only to logged-in users
Messages Settings – You can use HTML and shortcodes inside the messages

Text to display before posts list
Text to display after posts list
Message to display if no purchases exist
Message to display if a user is not logged in
Here is a screenshot of the sidebar widget:

The Messages
Using the plugin you can also display different messages that will change dynamically according to the user's status:
Users who are not logged-in to the website
Users who are logged-in, but haven't purchased any pay-per-post yet
The correct message will be automatically displayed by the shortcodes.
In the Settings tab you can easily customize the messages to your needs as you can see in the below screenshot: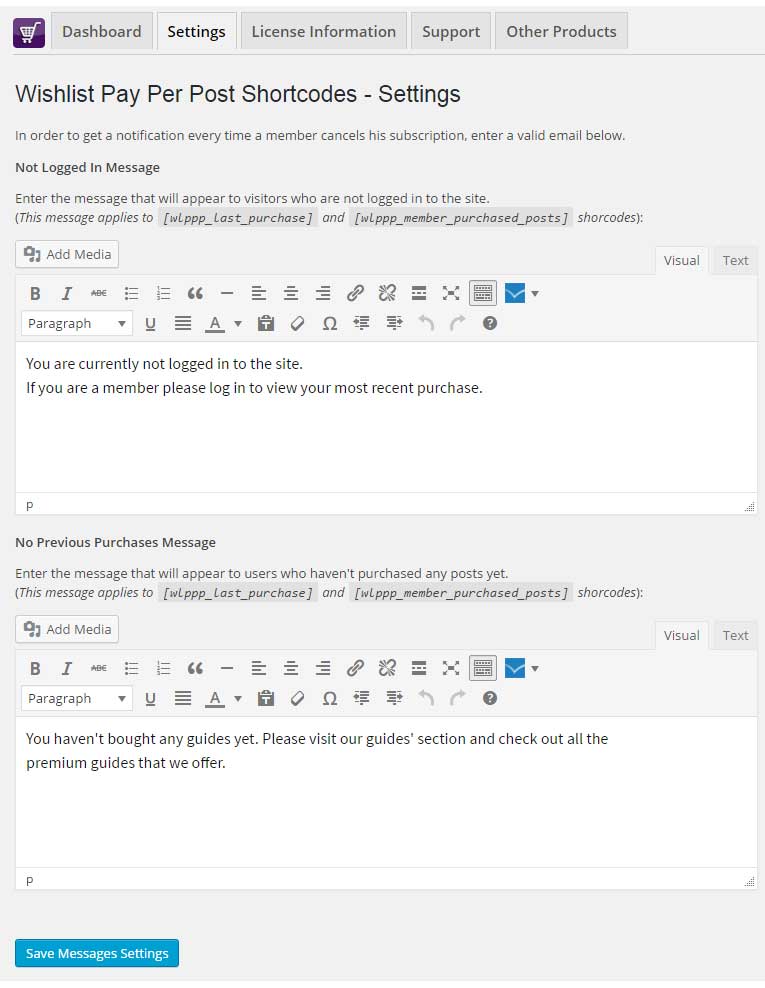 Files
When finishing the purchasing process you get:
1. Wishlist Pay Per Post Shortcodes plugin (zip file)
2. Manual (PDF file) 
FAQs
Does the plugin work with free pay-per-post registrations?
Yes, it works with both free and paid pay-per-post
Can I integrate the plugin with every membership site software? 
No, Wishlist Pay Per Post is a Wishlist Member dedicated plugin. 
Why the plugin is necessary for creating a pay-per-post site?
When we first started using Wishlist's feature, we discovered that it is missing some very important settings, which led us to develop a new plugin in order to use it as we want.
Wishlist Pay Per Post Shortcodes does 4 crucial actions that Wishlist Member doesn't allow:
Make specific content in the excerpt visible only to user who hadn't bought the post (To display the post's price, Buy Now button, certain content etc.)
Make specific content in the excerpt visible only to users who bought the post (To display an icon that indicates what posts the user has access to etc.)
Display the user a list of all the posts he bought (To allow quick access to all posts from the Members Dashboard)
Display the user his last purchased posts (To allow quick access to the post from the Thank You page)
Requirements