Description
Wishlist Member WooCommerce Members Discounts allows you to grant your existing members with special discounts for products you sell through WooCommerce based on the membership level/s they are registered to.
This means that only customers who are also registered to your membership site will benefit from the discount, while your regular customers will pay the regular price.
Exclusive Features
The Price Changes Automatically – The product's price changes automatically according to the user's status, so if he is a regular customer he will see that the product costs X and if he is also a member he will see price Y
Per Product Discount – The products' discounts are set per-product inside the product's settings, this way you have full control over the price of each and every one of your products
Per Membership Level Discount – Not only are the discounts set per-product, but inside each product you can set different discounts to different membership levels
Set Any Price You Want (Lower / Higher) – You are not limited to only granting discounts, in the "Discount Amount" field you can choose ANY price you want, even a price that is higher than the regular product's price, so for example:

Product's regular price – $20
Basic level members pay – $25 / 125%
Premium level members pay – $15 / 75%

Fixed Price vs. Percentage Discount – You can choose to set a fixed-price discount or a percentage of the price according to your needs
Supports Multiple Levels Users – You can set the priority of each discount, so if your members are registered to more than one membership level they will get the discount according to the discount's priority
Set Your Members Discounts in 3 Simple Steps
Wishlist Member WooCommerce Members Discounts has very straight forward settings and you can easily set your desired discounts for each product.
Follow these 3 simple steps to set your discounts:
Go to the Products menu and click Edit on the relevant product
Scroll down to the Product Data Meta box
Go to the WL Members Discounts tab and set your discounts for the relevant membership levels
Here is a screenshot of the WL Members Discounts tab: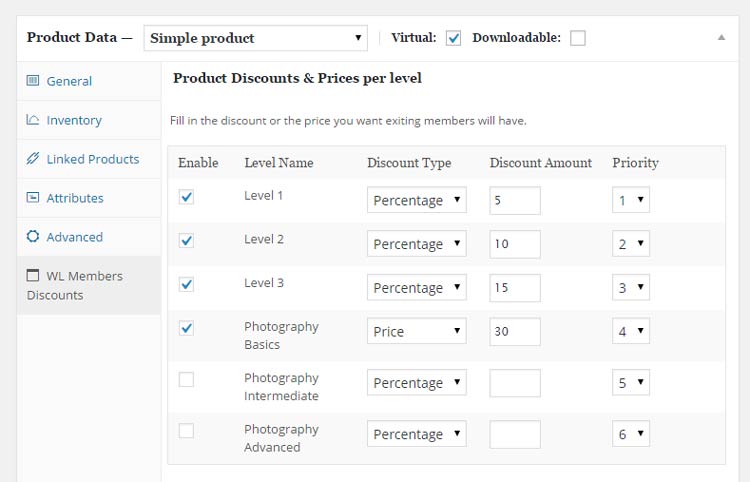 1-Minute How To Videos
How to Grant Members-Only Discount on WooCommerce Products?
FAQs
In order to use Wishlist Member WooCommerce Members Discounts must I also purchase Wishlist Member WooCommerce Plus?
The short answer is No, Wishlist Member WooCommerce Members Discounts is a stand-alone plugin.
However, if you do want to integrate Wishlist Member and WooCommerce and sell membership levels through the WooCommerce platform then we highly recommend you to get Wishlist Member WooCommerce Plus as its purpose is to easily integrate Wishlist Member and WooCommerce in 1-Click and it allows you to keep track of all your membership products from one place.
You can go over all the benefits of Wishlist Member WooCommerce Plus and see how you can benefit from it in the product's page.
Can I set a higher price in the discounts tab?
Yes, you are not limited in any way to granting discounts, you can set different prices (fixed / percentage) to different membership levels so that some will even pay more than the product's regular price.
If members purchase multiple products with different priorities will this cause any conflict in calculating the prices in the cart?
No, because the member already sees the new price as it is calculated automatically with the discount, when he will add it to the cart, it will already include the appropriate discount.
Can I apply discount to any type of product?
Yes, you can apply discounts to any type of product that you sell through WooCommerce, whether it is a physical product, a downloadable product etc.
Does the plugin support WooCommerce product variations?
Wishlist Member WooCommerce Members Discounts does indeed support variations, however, it can only work when setting the discount to be a percentage and not fixed price. If the discount is less than 1 dollar it will round the price.
The discount will be reflected to the member after he will choose the relevant variation from the drop-down.
Does the plugin have any conflicts with other plugins?
As far as we know, the plugin does not conflict with any other plugin. Wishlist Member WooCommerce Members Discounts a very strict code method so the chances that it's causing any problem are very low. If you have any problems or conflicts, please contact the support department.
What version of WooCommerce I need in order the plugin?
You will need to use WooCommerce version 2.3 and higher
Does the plugin integrate with every membership site platform?
No, Wishlist Member WooCommerce Members Discounts is a Wishlist Member dedicated plugin.
I have more questions and I haven't found my answers, how can I contact you?
If you haven't found your answers in the product's page and in the manual, please contact our support team and we will get back to you shortly
Requirements
Current Version: 1.1.1
Product Type: WordPress Plugin
Requirements: WordPress 5.3 and higher, Wishlist Member 2.8 and higher, WooCommerce 2.3 and higher
Choose Your License: