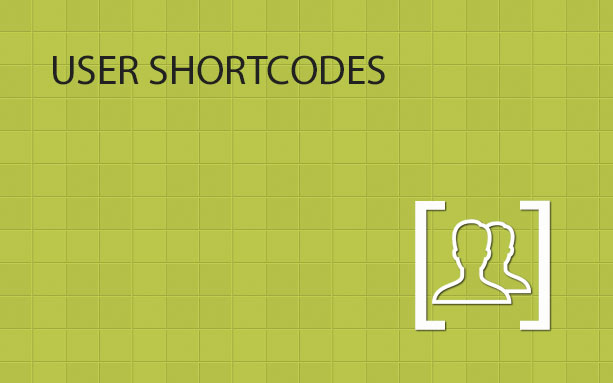 Description
User Shortcodes is a free WordPress plugin that allows you to add a simple list of shortcodes to display specific information on each user.
The plugin checks if a user is logged-in to the site and presents the relevant information accordingly.
Available Shortcodes
The plugin includes 6 different shortcodes:
[currentuser_username] – Displays the current username
[currentuser_useremail] – Displays the current user email
[currentuser_displayname] – Displays the current user display name
[currentuser_firstname] – Displays the current user first name
[currentuser_lastname] – Displays the current user last name
[currentuser_id] – Displays the current user numeric ID
Files
1. User Shortcodes plugin files
FAQs
What information is presented when a user is not logged-in to the site?
If the user is not logged-in then the shortcodes will return empty information.
Can I re-design the shortcodes' look and feel?
Yes, the shortcodes are clean and doesn't contain any design styles.
How do I use the plugin?
All you need to do is insert your desired shortcodes into any post or page and the relevant information will be automatically displayed.
Does the plugin have any conflict with other plugins?
As far as checked, the plugin does not conflict with any other plugins. It uses simple shortcodes and very basic coding, so the chances that it's causing any problems are very low.
What can I do in case there is a conflict?
If you have any problem or conflict, please try to disable the plugin and check if the problem still exists. If it does, please notify us through our support helpdesk.
Requirements