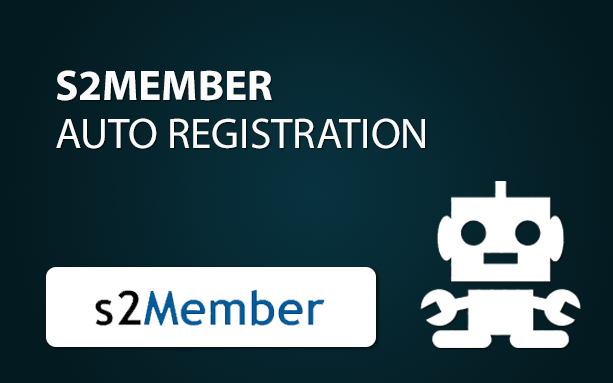 Want to get notification when s2Member Auto Registration is released?
Fill in your email address and you will be the first to know about it.
Special discount is reserved only for early adapters
* We hate spam just like you and will never sell your email any 3rd company
Description
s2Member Auto Registration will allow you to automatically register members to your membership site.
Right after members complete the payment inside the shopping cart, they will be redirected back to the membership site registered and logged in and all the important login details will appear in the after registration page.
How will s2Member Auto Registration Works with s2Member plugin?
s2Member Auto Registration will not change anything in the integration between s2Member and the shopping cart and it will not require any adjustments to the regular s2Member integration settings.
s2Member Auto Registration will be transparent and when you activate it you really won't need to do anything in order for it to work properly.
The purpose of s2Member Auto Registration is to automate the registration process when the user returns from the payment gateway.
This is how the registration process will work:
Step #1: The user is redirected to the shopping cart
Step #2: Fills-in the payment form and complete the payment
Step #3: Redirected back to the membership site
Step 4: This is where s2Member  Auto Registration takes control:
The plugin registers the member to the site > logs him in to the membership site > redirects him to the Thank You page and displays the login details using the plugin's shortcodes > sends him email with the login details.
In step 4 Without s2Member Auto Registration the member will need to fill-in the regular s2Member registration form in order to complete the registration to the site.
FAQs
Files
When finishing the purchasing process you will get:
1. s2Member Auto Registration plugin zip file according to the license you purchase
2. Complete manual for s2Member Auto Registration (pdf)