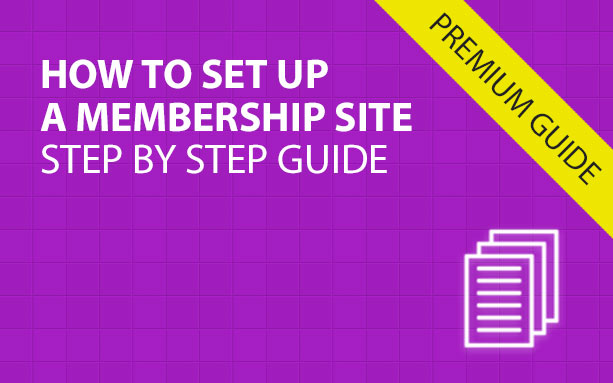 Guide Description
A membership site is one of the most common ways of making a steady stream of income online.
You can build a membership site about practically any niche you choose, and that's why most people who make their first steps in this field are not stuck in the "finding a niche" part, but in the technical part.
That is exactly why we have created this guide – How to Set Up a Membership Site – Step by Step.
We have put a lot of thought into the content it contains, to make sure it will give the complete picture of how a membership site should look like on the one hand, but won't include too much information that will cause information overload.
The guide will give you all the basic information you need to know in order to set up your membership site, launch it and start generating income right away.
Important Note:
To make sure you get the most updated content we update the guides from time to time. Therefore, this guide is not downloadable, but can be accessed through the members' area right after the purchase.
[/box]
Table of Contents
Important Points to Clarify before You Begin about:
Content
Membership Levels
Payments
Required Integrations
The Registration Flow
Paid Membership Registration Flow
Free Membership Registration Flow
Available Registration Forms
Steps to Building Your Membership Site
Step #1: Core Pages & Elements Setup
Membership Levels
Error Pages
Protection Settings
Redirection Settings
Step #2: Protected Content Creation
Protecting Posts & Pages
Protecting Custom Post Types
Protecting Categories
Bulk Protection
Plugins for Faster Content Management
Step #3: Payment Gateway Integration
Step #4: Autoresponder Service Integration
Step #5: Other Integrations
Members forums
eCommerce platforms
Step #6: Test Registration
What to test before launching your membership site
Get Our Bundle and Save Money!
You can purchase this guide individually or purchase The Zen Bundle that includes this guide "How to Set Up a Membership Site – Step by Step Guide" and save $20
The Zen Bundle Includes the following guides:
FAQs
Why Should You Buy The Guide?
If you are making your first steps in creating your membership site, but you are not really sure where to start, you have information overload or you are stuck in the technical part, then this guide is especially for you.
I was also once new to this field, so I can definitely relate to how you are feeling right now.
I believe that time is money, some of the information can be found online for free, however, instead of searching for all the information in different websites, you get all of it in one place so you will stop postponing things and start setting-up your membership site right away.
This guide will give you all the basic information you need to know in order to build your membership site, launch it and start to earn money.
You can always improve your membership site on the go, but with the basic information you get in the guide, the sky is the limit.
How Can the Guide Help You?
The guide will be available for you right after the payment.
You can purchase as many guides as you need at once.
Just click on the Add to Cart button to edit each guide and continue to checkout.