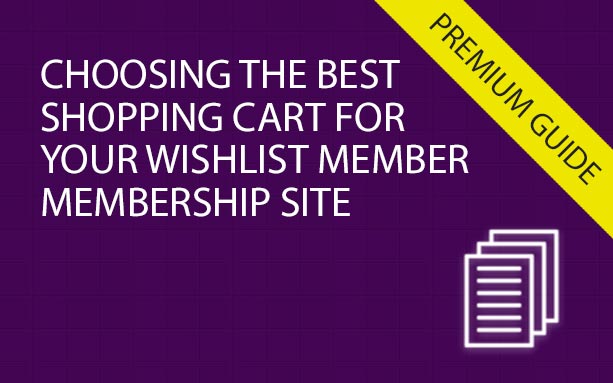 Guide Description
Choosing the best shopping cart may seem like an impossible mission, since there are so many services out there, and it can be very overwhelming, especially for membership sites' owners who are just making their first steps in this world.
That is why we focused only on the most popular shopping carts, to keep you from being overwhelmed and help you make the best decision for your business in a short amount of time.
Important Note:
To make sure you get the most updated content we update the guides from time to time.
Therefore, this guide is not downloadable, but can be accessed through the members' area right after the purchase.
What You Get In The Guide?
5 most common* shopping carts that integrates with Wishlist Member – pros and cons: Clickbank, PayPal, InfusionSoft, 1ShoppingCart, Stripe
How to choose the right shopping cart for you
What questions you must ask yourself before deciding which shopping cart to go with
Should you use multiple shopping carts in your membership site?
What are the pros and cons for multiple shopping carts?
How to setup multiple shopping carts inside Wishlist Member settings
The 10 tactics that will increase your checkout form's CTR
* These shopping carts are the most common shopping carts according to data we have collected from our clients over the years.
Check Out Our Bundles and Save Money!
You can purchase this guide individually or choose one of the below bundles that include the guide and save between $20 to $40
Choose your bundle below:
The Jumbo Bundle includes the following guides:
The Sumo Bundle includes the following guides:
The Sensei Bundle includes the following guides:
Table of Contents
Table of Contents
The 5 Most Popular Shopping Carts for Wishlist Member
Pros and Cons of Each Shopping Cart
Choosing the Right Shopping Cart for You
Crucial Questions to Ask Yourself for a Better Decision
Conclusion about Choosing Your Shopping Cart
Using Multiple Shopping Carts
Pros and Cons of Every Shopping Cart
Multiple Shopping Carts Setup in Wishlist Member
10 Tactics to Increasing Your Checkout Form CTR
FAQs
Why We Created This Guide?
Many clients ask us which shopping cart they should use. The amount of services out there is just amazing, and it can be very overwhelming to find the perfect solution that best suites your needs.
Not to mention that ever since Wishlist Member has added integration with several more shopping carts, it has become even more confusing (though it makes Wishlist even a better option for membership sites owners).
In this guide we focused only on the most common and popular shopping carts and covered all the common questions we got from our clients regarding this issue.
After going through the guide we are certain you will have your answer which shopping cart you should choose.
How Can You Get the Guide?
The guide will be available for you right after the payment.
You can purchase as many guides as you need at once.
Just click on the Add to Cart button to edit each guide and continue to checkout.