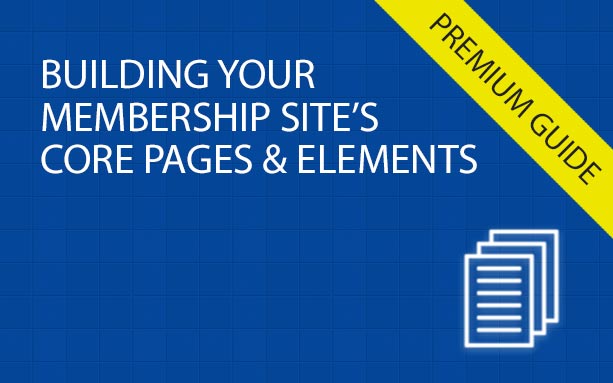 Guide Description
Building your first membership site can be quite overwhelming:
You need to make sure you build the right flow, setup your protected pages properly, add all the necessary information for your members and make give it the look and feel of a professional membership site.
We created this guide especially for membership site's owners who want to build their membership site fast but still do it the right way.
This guide includes important information about all the core pages your membership site must include.
Important Note:
To make sure you get the most updated content we update the guides from time to time.
Therefore, this guide is not downloadable, but can be accessed through the members' area right after the purchase.
What the Guide Includes?
What are the most important pages your membership site must include
What information you must include inside your protected pages
3 Members' Dashboard layout examples you can use
An error page layout example
How to turn your error page to a converting sales letter
How to structure your membership site's sales letter
Important links to include in your membership site
And more…
Get Our Bundle and Save Money!
You can purchase this guide individually or our The Zen Bundle that includes the guide and save $20
The Zen Bundle Includes the following guides:
Table of Contents
Table of Contents
The Core Membership Site's Pages for Your Membership Site
The 3 Types of Necessary Pages
What Content to Include in Every Page Type
3 Members' Dashboard Layout Examples You Can Use
How to Create a Converting Error Page
An Error Page Layout Example
Your membership Site's Home Page
The Sales Letter vs. Magazine Style Debate
The Sales Letter Structure
Elements to Include
General Must Have Links
The Blog Structure
Elements to Include
General Links to Include
FAQs
Why We Created This Guide?
We actually came up with the idea to create this guide by mistake…
We just started noticing that some of our clients, who are registered to some of our services, copied the structure of our own membership sites pages and used it on their own membership sites.
So it came to our mind to create a complete guide that includes all the must have pages for every membership site.
If our clients are using our structure, there has to be others who are struggling to structure their sites.
How Can the Guide Help You?
This guide was created especially for membership sites owners who are just creating their first membership site and are feeling overwhelmed and are not quite sure how to structure the site and what content their core membership pages should include.
This guide is also very helpful for experienced membership sites owners who want to get new ideas and new point of view on how others are creating their membership sites and get new ideas for their own sites.
The guide includes layout examples and important information to include in your membership pages.
How Can You Get the Guide?
The guide will be available for you right after the payment.
You can purchase as many guides as you need at once.
Just click on the Add to Cart button to edit each guide and continue to checkout.